Straightpoint Data Logging Software – SW-MWLC
Durham Lifting's Straightpoint Data Logging Software – SW-MWLC is a multiple Wireless Load Cell Controller (SW-MWLC) software package is a versatile, user friendly, wireless load cell control, display and data logging tool designed for use on the Windows PC platforms, Vista, Win 7, 8 & 10. SW-MWLC allows simultaneous, wireless communication between Straightpoint wireless load cells and a Windows PC. A resizable window displays a table of up to 100 wireless load cell channels of live data. Channels can be setup with user defined mathematical functions that can be used to calculate a multitude of results. For example, a display can show the value from a single load cell or the sum of multiple load cells. Visual display and audio alarms can indicate under and over range as well as loss in communications, low battery and error reports. SW-MWLC can log on demand, at pre-set intervals, on entering and leaving a pre-set overload and during an overload. Data is logged to a CSV file which can be opened for analysis by software programs such as Microsoft Excel. JSON format data is also available on demand via the built in web server. For more complex applications, graphical pages can be built showing the data in a variety of formats including digital display or bar graphs. Up to eight pages can be defined and the pages easily navigated between a variety of image formats that can be imported, including JPG, GIF, PDF and DXF. Custom applications including branding and colour scheme are available. Please contact Straightpoint's sales department for pricing. SW-MWLC software is supplied with a SW-USBBSE extended range USB transceiver.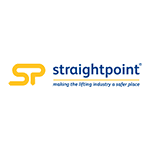 Description
FEATURES AND BENEFITS
Displays and logs data up to 100 Straightpoint wireless load cells simultaneously.
Mapping/graphical capabilities.
Webserver offers remote viewing on iPads/tablets/smart phones and also supplies JSON data on demand.
Logging at timed intervals, manual or on overload/underload.
Visual and audible alarms indicates overload, low battery and communications error.
Zoom in to channel to see data trends and history.
Export and log data in CSV format.
APPLICATIONS
Water weight Testing
Overhead Weighing
Bollard Pulling
Tug Testing
Stevedoring
Heavy Lift