Frank Pickersgill, Chairman of Durham Lifting – one of the founding manufacturers of Modular Spreader Beams in the UK since 1990, provides an insight into his 55 years working within the Lifting Industry.
Tell us a little about yourself?
I was brought up along with one brother and two sisters in a small 2 bedroomed house in the town centre of Middlesbrough. A very close community with very little money, nothing to pinch, so no one bothered locking their doors at night.
I did anything to make a bit of money, paper rounds, chopping and selling firewood, cleaning windows, snow shovelling, errand-boy, and left school as soon as my last exam was completed.
I first started work as a labourer at Cargo Fleet Steelworks working in the 11" Mill, my day generally consisted of tarring steel piling bars and some works on the section cutting and straightening lines.
I then obtained an apprenticeship as a mechanical engineer (fitter) at ICI Wilton and started with them in September 1966.
My Father was a steel erector rigger, and an ex-seaman, and I recall that evenings at home would be spent serving and splicing hemp ropes. Answering problems such as how to get a floating log out of a pond without getting my feet wet? Shown how king posts were used to erect tanks and taught how to tie various knots and what to use them for. I believe this background is what sparked my interest in lifting and lifting equipment.
How did you get your start in the lifting engineering sector?
During the time spent at ICI Wilton, I attended evening classes at both Longlands Technical and Constantine College, gaining a full Technical City and Guilds as well as a HNC. 
I moved jobs to the Steel works at Lackenby Plate Mill, where I achieved rapid promotion to first chargehand and then Foreman/Shift engineer. It was during this time that I was asked to focus on the overhead cranes area of the business as my speciality – an area that is still very much a source of interest to me today. 
Provide a brief overview of the companies that you have worked for/with?
 Employment followed at Crane Aid Services (Lloyds British), Arabian American Oil Corp., Ind-Tech. Hydraulic Engineers. Before returning to the now Teesside University in 1986 to complete an HND in computer aided Engineering.
I had a growing family to support so I decided to take the plunge and work as a subcontractor working for Ken Elder Engineering. After achieving my HND qualification, I was requested by Ken to open a company trading as Ken Elder Lifting to work as Junior Director, this move gave me the vehicle to pursue my career, with the design and manufacture of cranes and lifting gear being core business.
When did you become involved in the design and manufacture of modular spreader beams, who did you design them for and where were they first used (what application)?
I first recollect the use of heavy duty modular lifting beams during my time working with Grayston White & Sparrow, and also in 1990, when I first designed and manufactured our first set of 50Te modular spreader beams based around structural hollow section, to assist Ken Elder Liftings on-site lifting and testing services.
This then set the ball rolling with the move into the design and manufacture of a multitude of other Multi and modular beam systems.
What has been the most outstanding moment/biggest achievement in your career?
A few of the biggest achievements of my career include the Design and supply of testing for the Royal Fleet auxiliary ships and their associated equipment. This involved floating a vessel into a dry dock and the setup and securing of 800Tonnes of ballast from its four submarine recovery winches, as well as the setup and reeving of four anti twist 16fall block winch systems in order to achieve Lloyds Register and MOD acceptance and certification.
The Design and supply of JLay hydraulic ship mounted cranes, and Durham Liftings assistance in the design and manufacture of Lifting equipment for the Offshore industry, working with both Noble Denton and DNV, to provide less laborious and more cost-effective Lifting solutions for lifting equipment up to and above 1000 Tonnes.
Franks continual mentoring to his team has allowed the business the ability to idea and provide solutions to difficult handling problems. Durham Liftings continuing drive for quality in design manufacture and proof-load testing ensures an efficiently engineered and safe future for specialist lifting equipment.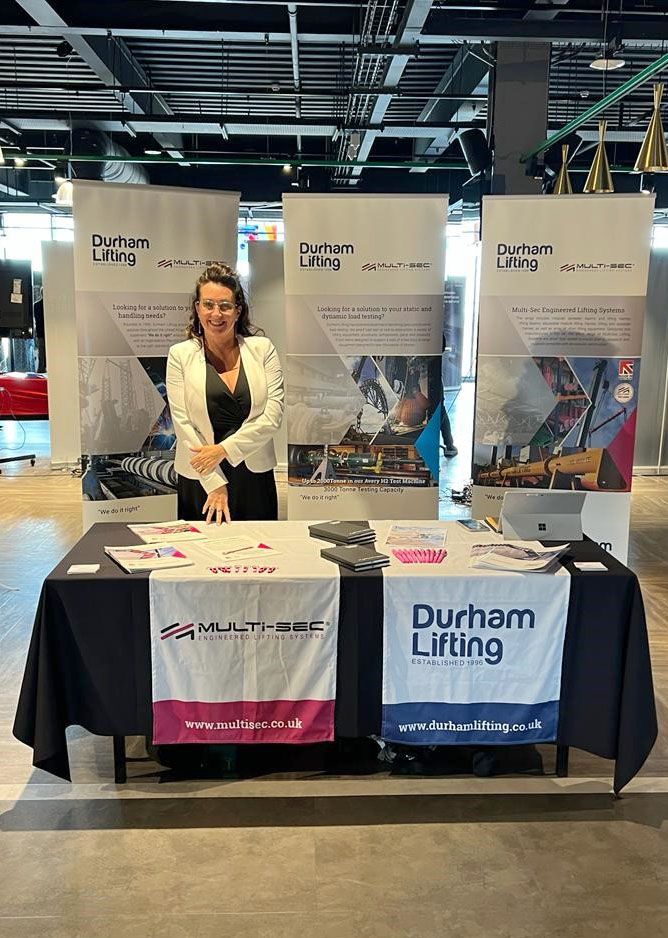 The Durham Lifting team look forward to attending this year's UK Ports Meet the Buyer event on 7th July 2022 in Liverpool.
Read More »