Crane Installation, Maintenance
& Servicing
Preventative Maintenance for all Crane Types. Durham Lifting are specialist providers of crane services encompassing periodic inspections, crane maintenance, crane testing and crane repairs. 
Our service engineers have extensive experience of all makes and models of crane and hoist, and carry out a range of services, maintenance, installation and repair to a wide variety of lifting equipment.
Our aim is to achieve maximum performance at all times; while extending lifespan, increasing safety and reducing your long-term maintenance and repair costs
Contact us with your requirements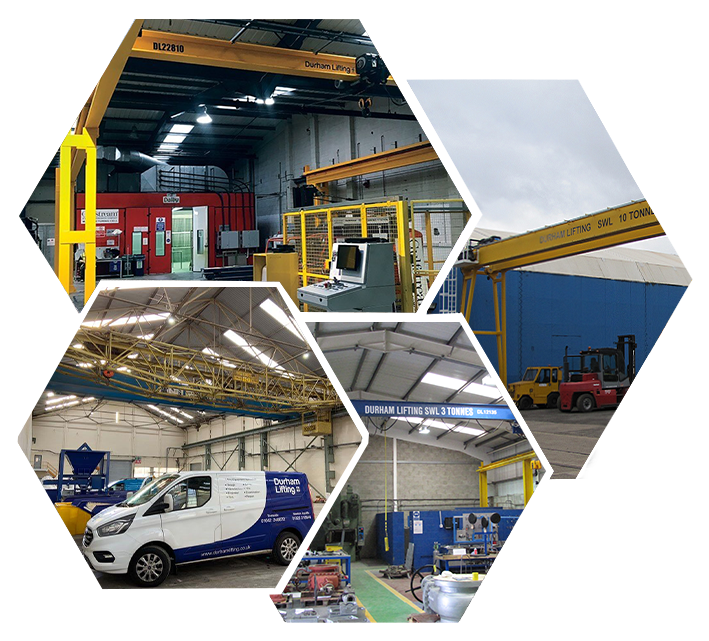 We provide an extensive range of overhead lifting equipment and installation services for the following systems:
Jib Cranes
Light Crane Systems
Monorail Systems Hoists (electric & pneumatic)
Radio Controls Parts
Preventative crane maintenance is the cost effective, time saving and intelligent alternative to reactive repairs. As well as reducing the likelihood of a breakdown, preventative maintenance will keep your cranes in peak condition, minimising downtime and maximising the productivity of your equipment.
If your lifting equipment no longer meet your operational needs, Durham Lifting can upgrade it to meet your new requirements. Old equipment can be refurbished – resulting in substantial cost savings when compared to replacements, utilising new or reconditioned parts.
Our qualified engineers can undertake a thorough inspection and examination of all types of lifting and handling equipment. All inspections are completed in accordance with BS 7121, LOLER/PUWER requirements at a time you choose to minimise disruption to your production schedule.
Should you experience a failure of your lifting equipment, our experienced and fully trained Technicians will respond to your situation and carry out the repairs to your lifting appliance.