3000 Tonne Testing Capacity
Durham Lifting is the home of Proof Load Testing, housing the largest test bed in the UK and Europe.
Durham Lifting have extensive expertise and experience in delivering static, dynamic, and destructive load testing.
We have the capability to load test a variety of lifting and mooring equipment, structures, components, parts and products.
Installed at our Britannia Testhouse facility in the North East of England, our 3000 Tonne Test Bed is the largest of its kind in the UK and Europe.
Our testing capabilities also include our 2000 Tonne Avery H2 Test Machine, 100 Tonne Horizontal Test Bed, 400 Tonne Vertical Test Bed, Quayside Bollard Testing, and 500 Tonne Mobile Test Bed which can be deployed on-site at a location of your choice.
Contact us with your requirements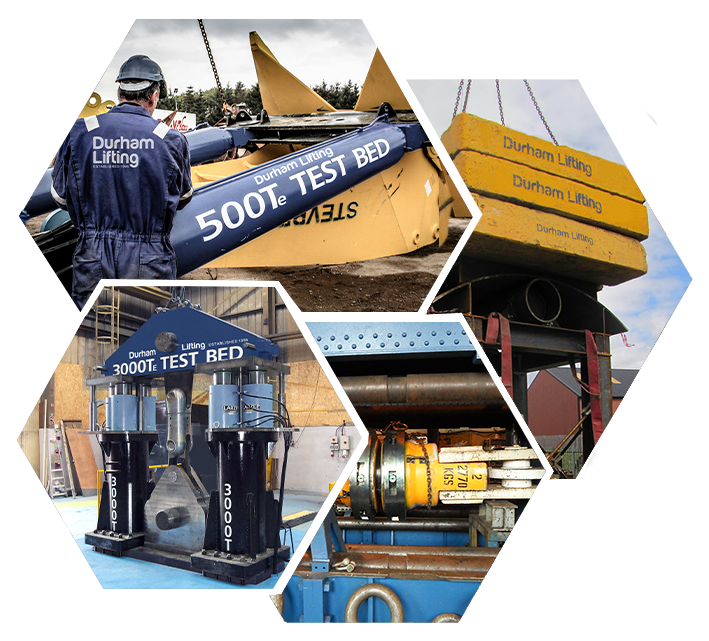 We work to your schedule, at a time you choose, minimising disruption to your production schedule
Tensile Testing 
A force is applied to load the sample in tension.
Compression Testing
Force is applied to load the sample in compression.
Shear Tests 
A force is applied in the plane parallel to the cross section of the sample.
Bending Tests
Support the sample at either end and apply the load at midspan.
Proof Load Testing 
A load applied to the sample that it resists within deformation limits.
Live Load Testing 
A dynamic load is applied to the sample utilising test weights.
Destruction Testing 
Minimum break load testing in order to determine the samples MBL.
Third Party Witness 
Available from your preferred Third Party verification body.
Pre and Post Test MPI 
Pre and post-test magnetic particle inspection (MPI) – Can be arranged in-line with British standards.