LX Budget Nylon Wheeled Skates
Models Available: LX6, LX12, LX6F, LX12F, LX6/12R.
Load Moving Skates – Low Cost Option.
This LX range of load moving systems are now available as a 'low cost' alternative to our premium Steerman range of skates.
These three point loading systems comprise of steerable front and pair of adjustable rear skates that are supplied complete and ready to use.
The steerable front skates (LX-6F and LX-12F) are supplied complete with steering handle/towing bar and the rear skates (LX-6/12R) are supplied complete with two adjustable alignment bars.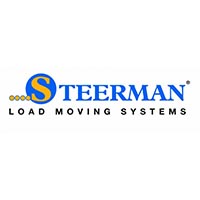 | MODEL | CAPACITY TONNE | NUMBER OF WHEELS | WHEEL DIA. MM | LOAD AREA FRONT SKATE MM | LOAD AREA REAR SKATE X WIDTH MM | WEIGHT KG | HEIGHT MM |
| --- | --- | --- | --- | --- | --- | --- | --- |
| LX-6 | 6 | 12 | 85 X 90 | 185 x 150 | 300 x 250 | 45.0 | 115 |
| LX-12 | 12 | 16 | 85 X 90 | 400 x 220 | 300 x 250 | 96.0 | 115 |
| LX-6F | 3 | 4 | 85 X 90 | 185 x 150 |   | 15.0 | 115 |
| LX-12F | 6 | 8 | 85 X 90 | 400 x 220 |   | 66.0 | 115 |
| LX-6/12R | 6 | 8 | 85 X 90 |   | 300 x 250 | 30.0 | 115 |