Straightpoint Jumboweigher Plus
Durham Lifting's Straightpoint Jumboweigher Plus Crane Scale is a popular choice among steel service centres and other heavy industrial applications. The Jumboweigher offers a cost-effective alternative to its more expensive rivals yet a safe option over low cost crane weighers. The Jumboweigher series of crane scales offer high capacity, quality, accuracy, and safety at low capacity prices, and are utilised worldwide in a variety of manufacturing and industrial applications.  As with all Straightpoint products each Jumboweigher crane scale receives superior electronics, excellent build quality and certified calibration and proof testing. The heavy duty crane scale is extremely accurate, and is manufactured from quality materials, featuring a high strength aluminium alloy outer housing.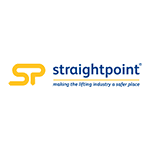 Description
As with all Straightpoint products each Jumboweigher is safety tested and is supplied with certification of calibration and proof testing. A full array of wireless accessories are also available including signal boosters, LED wireless scoreboards and base stations with analogue (4-20mA, 0-10v, 0-5v) or digital (RS232/485, Modbus RTU, and ASCII serial communications protocol) outputs. If you are looking for a high quality, cost-effective crane scale and are unwilling to give up features and safety, look no further than the Jumboweigher Crane Scale.
Large bright LED display
High accuracy
Aluminium housing
Power saving mode
Push button tare
Hold function
Large keys make operation simple even if wearing gloves.
APPLICATIONS
Under Hook Crane Weighing
Under Tripod Load Monitoring
Light Duty Structural Load Testing
Pipe and Fastener High Torque Load Application
Wire Rope and Cable Tension Monitoring
Shipping and Receiving Weighing
Escalator Comb Impact Load Testing
SUPPLIED WITH THE FOLLOWING AS STANDARD
Remote Control
Proof test certificate
Operator Manual
Carry/Storage Case