Straightpoint Proof Test Plus Software for Lifting Equipment
From crane testing using water bags to pad eye testing using hydraulic tools, the need to document test procedure and results has never been greater. Straightpoint Proof Load Test for Lifting Equipment – Proof Test Plus Software is designed to connect to any of their wireless load cells, allowing the test engineer to wirelessly, and at a safe distance, monitor a proof load test and automatically create a pass or fail certificate when testing is complete.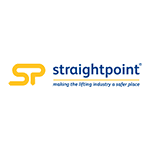 Description
FEATURES AND BENEFITS
700m/2300ft range allows operator to stand at safe distance from test.
Log data at speeds up to 200Hz.
Connects to any Straightpoint wireless load cell.
Automatically creates digitally signed pass or fail certificate.
Real time load v time graph display.
Free entry fields to note wind speed, sea states etc.
APPLICATIONS
Bollard pull tests.
Tug tests.
Crane Test (Water bags, block weights).
Pad eye or fly point testing.
Crash barrier testing.
Lifting equipment testing – Slings, chains, wire rope, hooks.
Construction equipment testing – Shoring columns, acrow props and lintels.
Lifting and spreader beam testing.
Hydraulic cylinder load test.