Crosby® Bolt Type Shackles - G-2130 / S-2130
Durham Lifting's Crosby Bolt Type Anchor shackles with
thin head bolt – nut with cotter pin. Meets the performance requirements of Federal Specification RR-C 271G, Type IVA, Grade A, Class 3, except for those provisions required of the contractor.
Bolt-Type Shackles can be used in any application where round pin or screw pin shackles are used. In addition, they are recommended for permanent or long term installations and where the load may slide on the shackle pin causing the pin to rotate.
The bolt-type shackle's secondary securement system, utilizing a nut and cotter, eliminates the requirement to tighten pin before each lift or movement of load.
Look for the Red Pin®, the mark of genuine Crosby quality.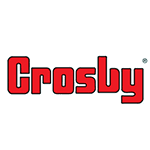 Description
Capacities 1/3 thru 150 metric tons, grade 6.
Working Load Limit and grade "6" permanently shown on every shackle.
Forged – Quenched and Tempered, with alloy bolts.
Hot Dip galvanized or self colored. (85, 120, and 150 metric ton shackles
are all hot dip galvanized bows and the bolts are Dimetcoted® and painted red)
 Sizes 3/8 and below are mechanically galvanized.
• Fatigue rated (1/3t – 55t).
Shackles 25t and larger are RFID EQUIPPED.
Approved for use at -40° C (-40° F) to 204° C (400° F).
Meets or exceeds all requirements of ASME B30.26.
Shackles 85 metric tons and larger are individually proof tested to 2.0 times the
working load limit.
Type Approval certification in accordance with ABS 2016 Steel Vessel Rules
ABS Guide for Certification of Lifting Appliances available. Certificates available
when requested at time of order and may include additional charges.
3.1 Certification as standard available for charpy and statisti al proof test from 3.25t
up to 25 tons to DNV2.7-1 and EN13889.
Crosby 3.25t through 25t G2130OC anchor shackles are type approved to DNV Certification
Notes 2.7-1- Offshore Containers. These Crosby shackles are statistical proof and impact
tested to 42 Joules (31 ft•lbf) min. avg. at -20° C (-4° F). The tests are conducted by Crosby
and 3.1 test certification is available upon request. Refer to page 87 for Crosby COLD
TUFF® shackles that meet the additional requirements of DNV rules for certification of lifting
applications – Loose Gear.
All other 2130 shackles can meet charpy requirements of 42 Joules (31 ft•lbf) avg at -20° C
(-4° F) when requested at time of order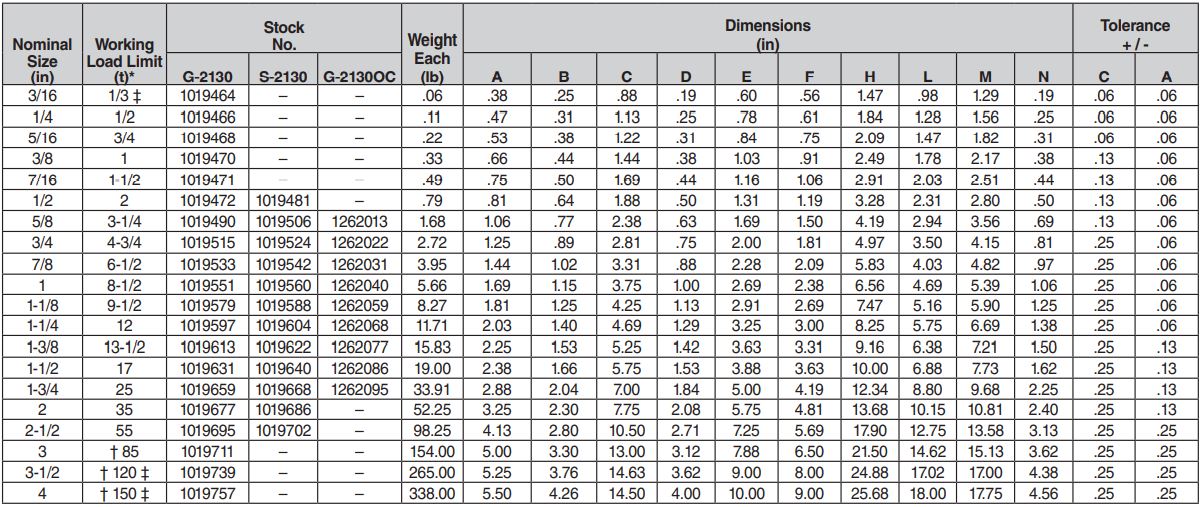 NOTE: Maximum Proof Load is 2 times the Working Load Limit. Minimum Ultimate Strength is 6 times the Working Load Limit. For Working Load Limit reduction due to side loading applications. Individually Proof Tested with certification.  Furnished in Anchor style only and furnished with eyebolts for handling.