SX/S Heavy Duty Nylon Wheeled Skates
Models Available: SX10, SX 20, SX30
Steerman load moving skates comprise of a steerable front section and a pair of adjustable rear trolleys.  These innovative safe and cost affective systems are available in capacities ranging from 10 to 100 tonne and can be stripped down to component parts for easy transportation.
These skates are powder coated and all connecting elements corrosion-resistant. The highest of safety requirements have been considered.
Steerman is a worldwide supplier of load moving equipment throughout Europe, Africa, Asia and North America.
Designed for the professional load mover, these systems have been developed over a number of years to ensure total ease of the operation and maximum safety.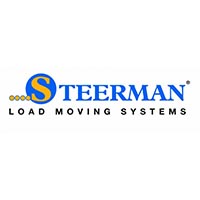 | | | | | | | | |
| --- | --- | --- | --- | --- | --- | --- | --- |
| Model | Capacity of COMPLETE SYSTEM tonne | Colour and Quantity of Wheels | Size of Wheels mm | Turntable Diameter mm | Overall Height mm | Rear Width Adjustment mm | Boxed Weight COMPLETE SYSTEM kg |
| SX10 | 10 | Black x 16 | 82 x 48 | 180 | 102 | 252 to 1200 | 54 |
| SX20 | 20 | Black x 32 | 82 x 48 | 180 | 102 | 480 to 1500 | 76 |
| SX30 | 30 | Black x 48 | 82 x 48 | 180 | 110 | 720 to 1500 | 136 |