Crosby® G-215 / S-215 Round Pin Chain Shackles
Durham Lifting's Crosby® G-215 Round pin chain shackles meet the performance requirements of Federal Specification RR-C-271G Type IVB, Grade A, Class 1, except for those provisions required of the contractor.
Crosby shackle's are a U-shaped piece of metal that has a pin or bolt across the opening.  Can be used in tie down, towing, suspension or lifting applications where the load is strictly applied in-line. Round pin shackles should never be used in rigging applications to gather multiple sling legs, or where side loading conditions may occur.
Look for the Red Pin® , the mark of genuine Crosby quality.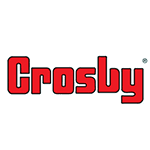 Description
Capacities 1/2 through 35 metric tons.
 Forged – Quenched and Tempered, with alloy pins.
Working Load Limit permanently shown on every shackle.
Hot Dip galvanized or Self Colored.
Sizes 3/8 inch and below are mechanically galvanized.
Fatigue rated.
Shackles 25t and larger are RFID EQUIPPED.
Shackles can be furnished proof tested with certificates to desgnated standards,
such as ABS, DNV, Lloyds, or other certification. Charges for proof testing and
certification available when requested at the time of order.
Shackles are Quenched and Tempered and can meet DNV impact requirements
of 42 Joules (31 ft•Ibf) at -20° C (-4° F).