EXTREEMA® Coil Lifting Sling
A development especially for lifting steel coils is a round sling made with Dyneema®. This product is especially designed to handle heavy and sharp steel coils in the steel industry and on and off loading of ships with steel coils.
The Dyneema® fibres used have a high cut and abrasion resistance, which is a must for lifting coils. Because of the manageability of the sling (very light weight) it causes less damage to the load.
Extreema® synthetic coil lifting slings made with Dyneema® have a lifting capacity from WLL 10T up to 40T per coil in a U-lift. Lengths can vary from 1m up to any working length required.
Extreema® coil slings come in many different configurations. Therefore, it is necessary to indicate the following information to our sales department: size, weight, shape (width, height, in- and outside diameter), if the coils are naked (unpacked) or packed and whether the lifts are repetitive or incidental.
For further information please contact our sales team.
Effective Working Length m: 1, 1.5, 2, 2.5, 3, 4, 5, 6, 8, 9, 10, 7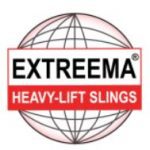 Description
Extremely low weight
Flexible, soft and easy to handle
Extremely low diameter
Low elongation (less than 1% at WLL)
Extremely high cut resistance
High abrasion resistance
Good puncture resistance
Extremely high resistance to UV exposure
Good resistance to chemicals
Does not absorb water