EXTREEMA® Corner Protector
The Extreema® Corner Protector is made from 100% Dyneema®.
Because of the two velcro straps the Corner Protector is extremely easy to mount onto the sling. Also, the flexible Dyneema® pad makes it possible to use the sling in any situation, with no fixed angle.
For further information please contact our sales team.
Effective Working Length m: 1, 1.5, 2, 2.5, 3, 4, 5, 6, 8, 9, 10, 7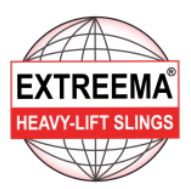 Description
Made from 100% Dyneema®
Highest abrasion resistance of any fibre
Excellent dynamic toughness
Excellent flex fatigue resistance
Super cut, puncture and tear resistance
Exceptional flexibility, no fixed angle
Longer life-time of round slings and webbing slings
Equipped with Velcro – easy to put on, easy to take off