Green Pin Standard Dee G-4151
Description
Material – Body & pin high tensile steel, Grade 6, quenched and tempere
Safety Factor – MBL equals 6 x WLL
Standard – EN 13889 and meets performance of US Fed. Spec. RR-C-271 Type IVA Class 2, Grade A
Finish – Hot dipped galvanised
Temperature Range – -Minus 20oC up to 200oC

Certificates – Test Certificate is supplied as standard, also upon request a cert of basic raw material manufacturer certificate and/or EC declaration of conformity can be supplied.
It is vital that the correct Shackle is chosen and all entities are considered. Please refer to the drawing below for product dimensions, and then select your shackle using the table.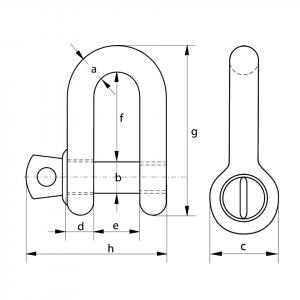 | | | | | | | | | | |
| --- | --- | --- | --- | --- | --- | --- | --- | --- | --- |
| W.L.L (tonnes) | a (mm) | b (mm) | c (mm) | d (mm) | e (mm) | f (mm) | g (mm) | h (mm) | Weight (kg) |
| 0.33 | 5 | 6 | 12.5 | 5 | 9.5 | 19 | 38 | 31 | 0.02 |
| 0.5 | 7 | 8 | 17 | 7 | 12 | 22 | 47 | 40 | 0.05 |
| 0.75 | 9 | 10 | 21 | 9 | 13.5 | 26 | 56 | 49 | 0.09 |
| 1 | 10 | 11 | 23 | 10 | 17 | 32 | 66 | 56 | 0.14 |
| 1.5 | 11 | 13 | 26 | 11 | 19 | 37 | 74 | 68 | 0.19 |
| 2 | 13.5 | 16 | 34 | 13.5 | 22 | 43 | 85 | 76 | 0.32 |
| 3.25 | 16 | 19 | 40 | 16 | 27 | 51 | 105 | 93 | 0.54 |
| 4.75 | 19 | 22 | 47 | 19 | 31 | 59 | 125 | 107 | 0.87 |
| 6.5 | 22 | 25 | 53 | 22 | 36 | 73 | 144 | 123 | 1.34 |
| 8.5 | 25 | 28 | 60 | 25 | 43 | 85 | 161 | 141 | 2.08 |
| 9.5 | 28 | 32 | 67 | 28 | 47 | 90 | 179 | 158 | 2.77 |
| 12 | 32 | 35 | 74 | 32 | 51 | 94 | 199 | 176 | 3.72 |
| 13.5 | 35 | 38 | 80 | 35 | 57 | 115 | 220 | 192 | 5.14 |
| 17 | 38 | 42 | 89 | 38 | 60 | 127 | 239 | 208 | 6.85 |
| 25 | 45 | 50 | 104 | 45 | 74 | 149 | 283 | 250 | 11.45 |
| 35 | 50 | 57 | 111 | 50 | 83 | 171 | 333 | 281 | 16.86 |
| 42.5 | 57 | 65 | 134 | 57 | 95 | 190 | 360 | 321 | 24.61 |
| 55 | 65 | 70 | 145 | 65 | 105 | 203 | 399 | 355 | 32.65 |