Green Pin Super Bow Shackle BN​ G-5263
Description
Material – Bow and pin alloy steel, grade 8, quenched and tempered.
Safety Factor – MBL equals 6 x WLL
Standard – ASME B30.26 and meets performance requirements of US Fed. Spec. RR-C-271 Type IVA Class 3, grade B
Finish – hot dipped galvanized (175 ton shackle and up are painted)
Temperature Range – -Minus 20oC up to 200oC
Certificates – Test Certificate is supplied as standard, also upon request a cert of basic raw material manufacturer certificate and/or EC declaration of conformity can be supplied.
It is vital that the correct Shackle is chosen and all entities are considered.
Please refer to the drawing below for product dimensions, and then select your shackle using the table.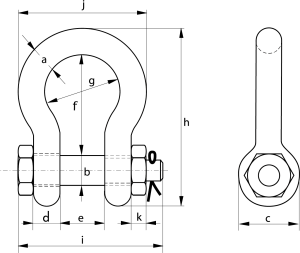 working load limit
diameter bow
diameter pin
diameter eye
width eye
width inside
length inside
width bow
length
length bolt
width
thickness nut
weight each
t
a
mm
b
mm
c
mm
d
mm
e
mm
f
mm
g
mm
h
mm
i
mm
j
mm
k
mm
kg
3.3
13.5
16
34
13
22
51
32
89
82
59
13
0.4
5
16
19
40
16
27
64
43
110
98
75
17
0.73
7
19
22
46
19
31
76
51
129
114
89
19
1.19
9.5
22
25
52
22
36
83
58
144
130
102
22
1.73
12.5
25
28
59
25
43
95
68
164
150
118
25
2.56
15
28
32
66
28
47
108
75
185
166
131
27
3.6
18
32
35
72
32
51
115
83
201
178
147
30
4.95
21
35
38
80
35
57
133
92
227
197
162
33
6.62
30
38
42
88
38
60
146
99
249
217
175
34
8.11
40
45
50
103
45
74
178
126
300
260
216
40
15
55
57
57
117
57
83
197
138
341
303
252
46
23
85
70
70
143
70
105
260
180
437
363
320
56
44
120
83
83
162
83
127
329
190
535
425
356
66
72
150**
95
95
208
95
147
400
238
647
524
428
50
112
175**
105
108
238
105
169
410
275
688
567
485
50
160